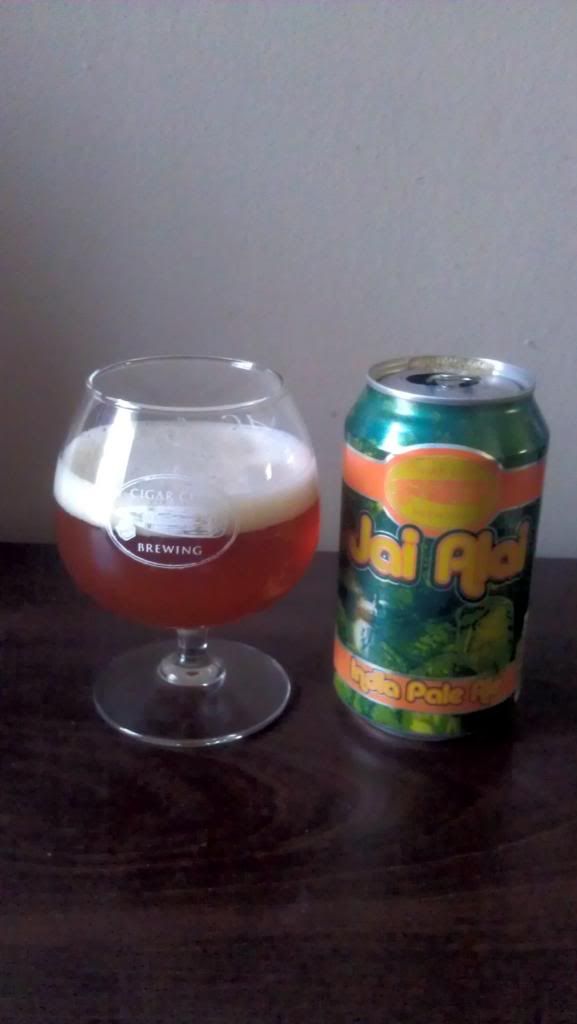 Well hello again anyone who used to regularly read this blog! I have been going to the gym, eating better and trying to lose some weight so I wanted to temporarily cut beer out of my diet. (Not that one beer a day isn't good for you, but I found it easier to just cut it out.) Anyway, I have missed reviewing and cannot wait to get another one up for you guys to enjoy. Cheers.
This beer I got courtesy of Dachshunddude86 and was actually an extra in a box(as was the glass) that included Cigar City Capricho Oscuro (latest batch). I am definitely excited to try this as I have heard nothing but great things...so here we go!
Jai Alai poured out an orange/rust color with a one and a half finer of a soapy white head. The past few beers I have reviewed had a head that dissipated quite quickly but this one stuck around for a bit until falling back into the glass. It left a white film on the sides of the glass where it hit and over the top of the beer. The beer itself is really clear, I can see right through it and out my front window.
I started to get whiffs of this beer when I first opened it. I love when that happens! This beer is insanely fruity. Holy crap. Slight bit of pine right up front but that is whisked away by the big orange and mango aromas that come out of the glass. This is actually the fruitiest smelling beer that I have ever reviewed I'm pretty sure. I am not picking up any malt. Possibly a small breadiness on the back end of the aroma but I am not sure. It smells like fermented mango and orange juice pretty much and I am OK with this.
That is really nice. Right at the tip of the tongue I get hit with orange i was getting in the aroma. Not just a citrus flavor but actual orange itself. This is nuts! Middle of the mouth the orange starts to fade and I start to get some nice light caramel and bread then onto a citrus and pine flavor on the back end an a perfect finish. Slight bitterness at the end with the taste of orange zest left in my mouth. There is a mess load of flavor and aroma in this beer.
I love this beer from start to finish to be honest. This is my first offering from Cigar City and I understand the praise they get. It actually blows my mind that people from Florida can just walk into a gas station and buy a 6 pack of this. All in all, if you can't get this near you then trade for it or find a place to buy it online. There is no flaw to Jai Alai and your senses are treated to waves of citrus and pine.
Cheers ladies and gentlemen!
Happy Easter.