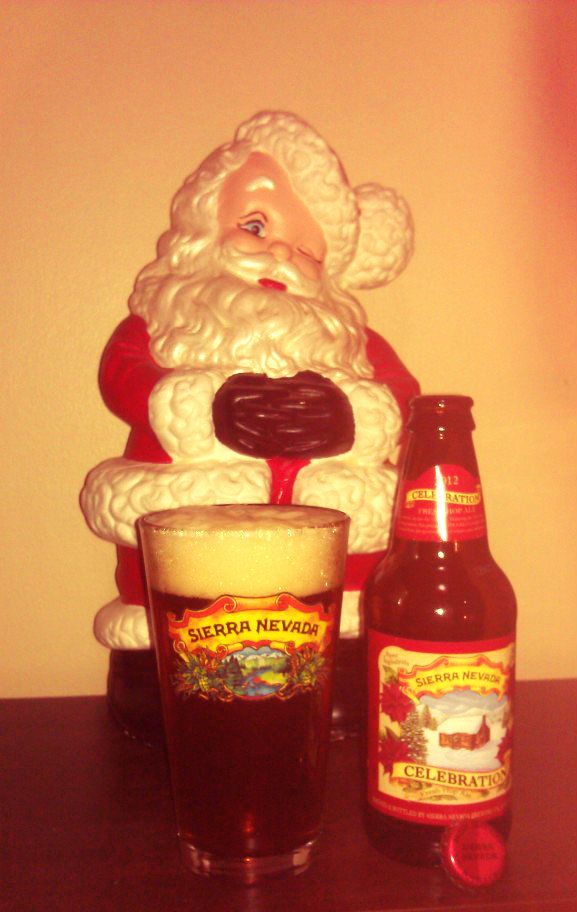 Mmmmmmm, I love this time of year and I love this beer. Sierra Nevada Celebration is their winter seasonal beer. An American IPA that comes in at 6.8%.
The beer itself poured an orange/reddish color with about a 3 finger head. As I drank this the head just stuck around and laced the glass all the way the down. Beautiful looking beer from start to finish.
First whiff I get a piney hoppiness and some nice bready malt and a touch of sweetness in there. Very nice aroma to it. Not overly complex but just very well done.
Absolutely love the taste on this. Starts with a big piney flavor with a small trace of grapefruitiness in there as well. Finishes with a nice bitterness and a bready character to it that really just makes the finish on this beer even that much better.
Mouthfeel on this is pretty surprising to me. It has a medium to full mouthfeel on it. Really coats yours mouth with flavor and is a nice touch.
Overall, I just have to say I love this beer. I buy a decent amount of it during the winter when I need a darn good IPA and this always does the trick for me during the winter. I highly recommend this to anyone who hasn't had it (that can't be too many people.)
Cheers ladies and gentlemen!