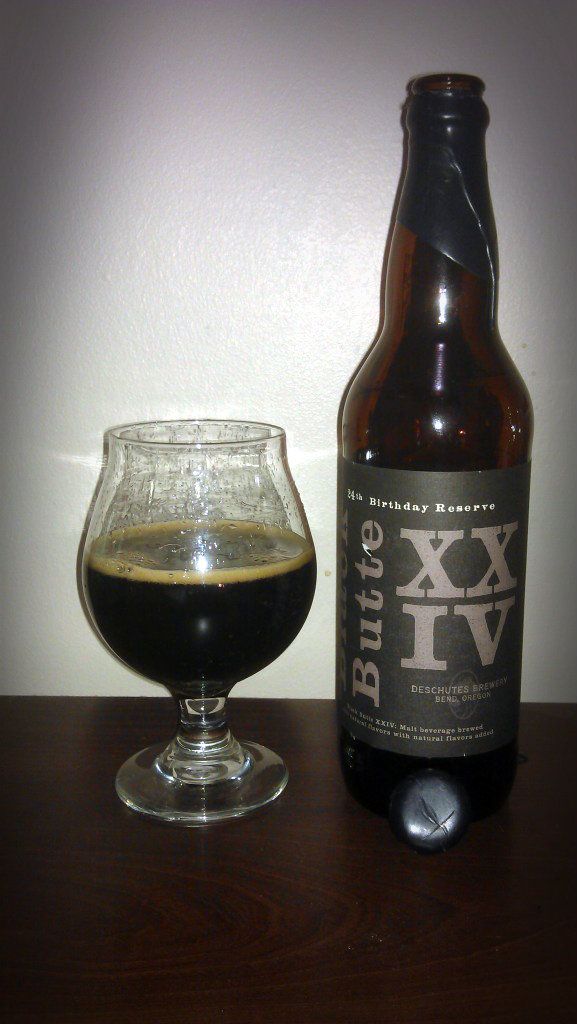 From Deschutes website:
"
XXIV. 24 years after Black Butte Porter's debut, our potent, layered, imperial tribute returns. As usual, it's a jazz riff, guided by the brewer's muse and the lure of exotic ingredients. Artisanal dark chocolate nibs. Deglet dates. Mission figs. It may, possibly, hopefully, be the best edition yet. But, as it should be, you'll be the judge of that."
Thanks to AzDback from BeerAdvocate for sending me this bottle! Awesome guy and I hope this beer is just as awesome! Let's dig in!
Looks black in the glass but has a brownish/red hue on the sides of the glass and out of the bottle it looked like a dark brown while pouring. I didn't expect much of a head on this considering it is a barrel aged beer (Doesn't mention it on the website but it has been confirmed) but a finger head managed to appear but only lasted for a few seconds. It leaves a really nice tan ring around the glass and sticks to the glass when you swirl it around. Really nice looking beer and something I have been excited to try for a long, long time.
The dates and figs really shine through in the front. Almost reminds me of like brown sugar dusted dates and figs? Interesting smell but also amazing. Definitely a bit of chocolate in there as well and adds to the aroma perfectly. I'm looking for the barrel character and I get it..sometimes. I think the mixture of the dates and figs with the wood and the vanilla character from the barrel really give it that brown sugar aroma. I love it. There is also a really nice roasted character to it in the end. Subtle, but very welcome!
Here we go, im excited,
Dates and figs are big up front on the palate. Not like just the small hints of it you get with Imperial Stouts. Big and in your face but really tasty. I actually think I get some of the chocolate right before I am blasted with the dark fruits. Goes from a chocolatey sweet to a fruity sweet and then right to a roasted character on the finish with a bit more of that dark fruit. This is delicious so far but I am hardly getting any of the barrel character I was getting on the nose. I get a slight bit of it on the very end but other than that I would say it is non-existant.
Delicious beer and I love the full mouthfeel this has. The roast really lingers through the finish but doesn't quite reach that burnt coffee territory. The best after date on the bottle is 7/23/13, I would probably recommend waiting til after that date and wait for the flavors to meld together better. It is delicious now but I think by that date and way after this beer will truly be special. The flavors are all there and are all delicious but they need time. With that said, I have a little bit left and I am very much looking forward to sipping the rest of it while relaxing and I hope the rest of you have a great night!
Cheers ladies and gentlemen!