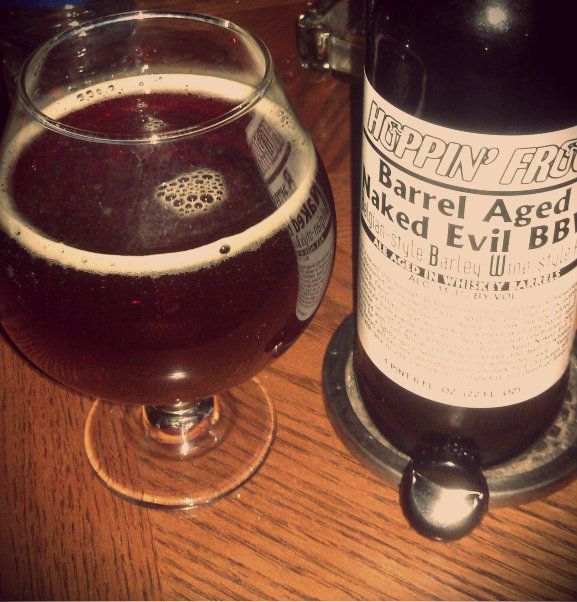 Good evening folks! I apologize for my absence from the blog but I am back and I am starting the new year out in style.
I decided to pull out a batch 2 Barrel Aged Naked Evil (Batch 1 had a white cap) from the cellar. I've had this bottle for i think 6 or 7 months and I figured today was a great day to open it.
This beer poured a dark amber and had a small, creamy 1 finger head on it and it didn't stick around but left a small lace around the glass as I drank it. I thought it was cool that there was sediment floating (not really floating. Kind of suspended in the beer) in the beer. I would have to guessed it was either yeast or possibly particles from the whiskey barrels this was aged in.
Aroma on this thing was pretty nice and not really what I was expecting. I got notes of dark fruits (figs, raisins) but also a candy type sweetness and butterscotch note to it. I didn't really get any of that barrel character in the aroma but it was still a great smelling beer!
The taste is when this beer blew me away. As soon as it hit the tongue I got a sweet vanilla note and that dark fruit character that I picked up on in the nose as well as that toffee or buterscotch. Really intense and flavorful. As I drank more of this I got a citrusy fruit note to it which actually went quite well with the vanilla and butterscotch and other dark fruits I was picking up on. Imagine a mixed fruit marmalade with a touch of vanilla. The actual whiskey component I didn't pick up on much but the oaky and vanilla were very present.
Mouthfeel on this was thick and syrupy...in a good way. The past few barleywines I've had have been a touch sweet and had a medium mouthfeel but this was exactly what I want in a barleywine.
Overall, this was a beautiful looking beer and a nice aroma to boot but with the huge punch of flavor this thing packs really blew me away. One of the greatest beers I have ever had. Not many times have I had expectations set so high that I was still blown away at the end. I can see this beer not being everyones "cup of tea" but it was exactly what I wanted. A true delight and something I will always search for when new batches are released.
Cheers ladies and gentlemen!