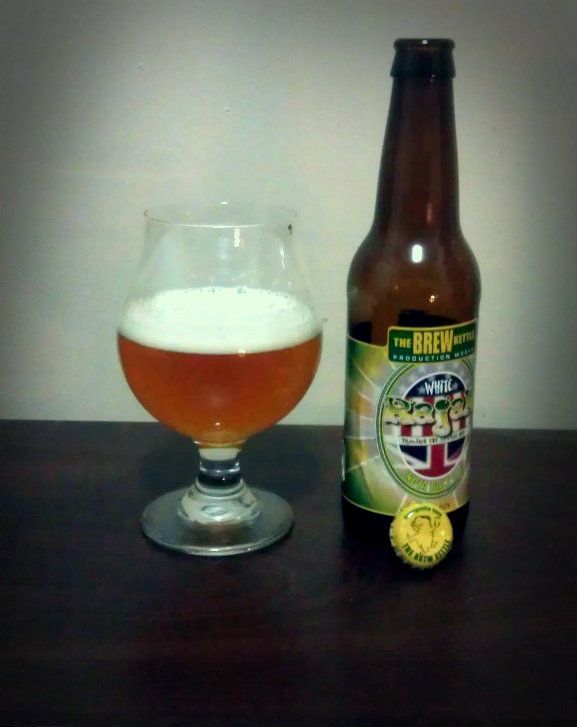 From the Brew Kettle:
"
A West Coast style IPA full of citrus-like and tropical fruit like hop flavor and aroma with an assertive yet smooth bitter finish....malt, take a back seat please"
Thanks to WesM63 from Beer Advocate for the bottle of this! Great guy for sure!
I've heard this beer mentioned before but I have never had it. But with the description The Brew Kettle gives and the fact I'm a hophead, I have a feeling I'm going to really enjoy this one!
IPA's are one my favorite styles for sure. One of the main reasons being the appearance you get with some of them. This one, for example, poured a golden orange that seemed to glow as the light hit. 2 finger head on it with tight, soapy bubbles for the most part. Didn't last long but it didn't dissipate fast either. I can hold the beer up and see to the other side of my computer. Super, super clear and just really great looking!
Right off the bat in the aroma I get big tropical fruit notes with with grapefruit and pine mixed in there as well. Just a super great aroma on this. It is like a bouquet of tropical and citrusy fruit and just laying on a bed of pine needles. No malt character to speak of really. I am trying to pick some up in the back but not having any luck. With an aroma on a beer like this you really aren't disappointed when a malt presence isn't present in the aroma to be honest. There is also a really nice sweetness on the back end that goes real well with the juicy, citrusy aroma.
Not quite what I was expecting on the initial taste. I was expecting a huge hop flavor and a huge bitterness to follow. I got the huge flavor but only a small amount of bitterness. In some cases I would be disappointed but in this case I was not. The fruit and citrus seem top just roll around the tongue forever with a constant supply of juicyyness. Like the aroma, I am not getting much malt on the palate. What I do get though feels like a tea biscuit. Bready note with a small touch of sweetness. A fruity and citrusy jam spread onto a tea biscuit. That is what you are in store for if you have never had this before.
Nice finish on the beer but my lips do feel a bit sticky. Not a big deal though. Really glad I tried this sooner rather than later. I would say this is a good-great but I am a tough critic when it comes to this style of beer. I enjoy a lot of them but I'm not blown away by them. This beer I thought was fantastic and I would no doubt like to seek it out again but, again, it didn't blow me away.
Cheers ladies and gentlemen!