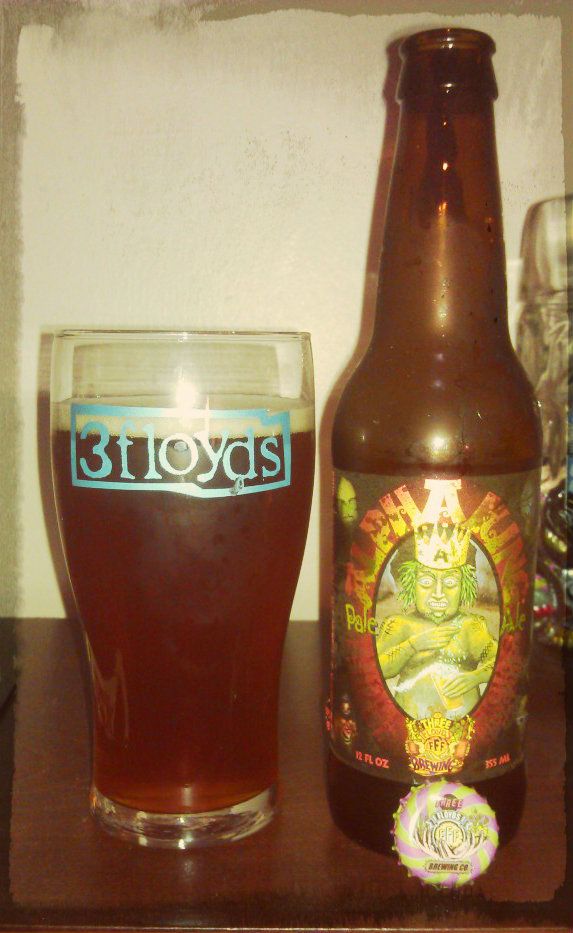 Well, I finally got my chest freezer that I am going to convert to my cellar AND i am off work now and I finally don't have to wake up before 7 a.m! Since I get to relax now I figured this would be a good time to sit down and enjoy one of my favorites with all of you.
"
3 Floyd's flagship beer, Alpha King is a big American pale ale that pours a deep amber with a creamy head. This ale is brewed with Centennial, Cascade, and Warrior hops giving it an intense citrus aroma and a crisp hoppy finish."
And a hoppy finish it has.
It pours a nice looking amber/dark orange with a 1 finger head that doesn't sty around too long but sticks to the glass slightly on the way down. A bit darker than a lot of pale ales I have had but it looks beautiful.
The aroma on Alpha King is always a favorite part of the beer for me. Such a great smelling beer. A little pine, a little orange/citrus and a little tropical fruitiness with a slight caramel and breadiness in there as well and only adds to the aroma.
First sip you get hit with big hop flavor and big hop bitterness! Pine and citrus lead the way and a subtle biscuityness in there towards that end before a fruity, bitter, and delicious finish.
Light to medium mouthfeel on it and leaves you wanting to take sip after sip. This is one of my beer I would want if I was stranded on an island. Crisp and refreshing and packs a whole lot of flavor. Whether I am drinking 1 or 3 I am always pleased to drink it. Always impressive.
If you trade or have access to Alpha King I highly suggest acquiring some if you have never had it. Actually, even if you have had it I still suggest going to pick some up. I always ask myself why I don't buy this more often as it is such a great beer.
Cheers ladies and gentlemen!
Also, ill be posting pictures of my new cellar when I finally get my temperature controller and beer put into it.